17 GRISDALES ROAD (GEORGE & RUTH GRISDALE)
Reference or Map # 22 (Link here)
My father Alfred James Grisdale (Jim) came to Wood's Bay around 1920 and was working with his father gathering stray logs from the log jams and pulling them up on shore. When he first came to Woods Bay with his wife and two oldest children he stayed at Charlie Grupps place for about one year. Then he stayed at old Amie Dion's place near Wood's Bay Lodge. From there while looking for property he was able to acquire a couple of acres of land where Moon River Marine is today. Since he was a veteran of World War 1 he was able to get the property for a small amount of money (which back then was a lot of money) from the Canadian Government.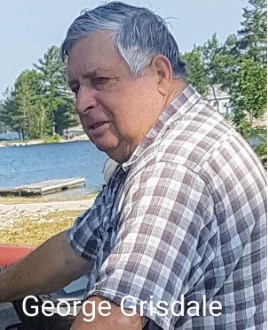 I bought my place from my sister (in 1957 when I was 17 years old for $800.00). My sister  had purchased it from a man named Gilbert Blondin. It was just a square 24' by 24' tar paper cottage which my brother Pete built in 1946.
I improved, expanded, raised the house and have made many improvements over the years.I built my first rental cottage in 1971. I built the second cottage in 1972. I built the third cottage in 1971.