MOON BASIN MARINA — (THE LOWNDES)
*No reference or map number as near the falls*
We are Harold and Angie Lowndes. We moved from Freelton Ontario to Moon Basin Marina in January 1974 and left Moon River August 1983.

In 1974 we decided that after spending all our free time up north that we should probably move north. After looking at some businesses farther north we came across Moon Basin Marina.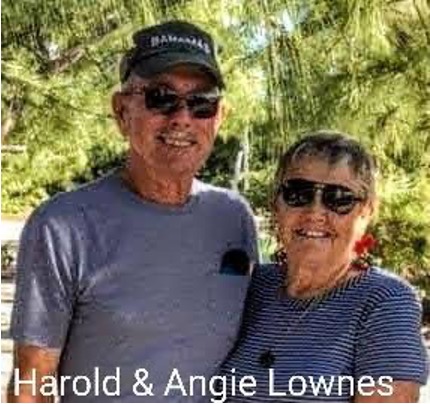 Our first trip into the basin was from 12 Mile Bay by water taxi awakening us to this wonderful area. There was a 4 wheel drive trail from 12 Mile Bay Rd to the Marina. We bought the Marina from George and Mary Bowles to close January 1st, 1975. We knew we had LOTS of work ahead of us. On our next visit to the Marina on Thanksgiving 1974. We came in the Healey Lake Rd!!!!! It also was a 4 wheel drive trail with mud almost a foot deep in some places.
We moved in by snowmobiles and sleighs in January. No septic, no running water and our house was only partially constructed. We DID have electricity. We had the only telephone In the area MOON RIVER 800. Bell telephone beamed us in from Parry Sound to a tower on the hill behind the house. There was a pay phone on the dock and an extension was in the house.
We have a son David, who was 10 years old at the time. Harold had a school run contract to transport Clay Bowles, the Grefel girls and David from the Moon Basin area to 12Mile Bay Rd to catch the school bus. This was done with snowmobiles and dune buggy. A distance of 3 miles. The first winter we had ice fishermen, snowmobiles and many of our friends to see what we had bought.
Spring came and we had to learn how to get around without hitting any rocks. Our first 24th May weekend Harold took a job to deliver cottage materials from 12 Mile Bay to Woods Bay by our barge. He hadJudson Arnold to show him the way from Moon Basin to 12 Mile Bay via Iron City Bay. Harold made notes looking back so he could find his way back without Judson.
We had a store, gas pumps, 4 rental cottages and rental boats and motors. We taxied our guests in from 12 Mile Bay, either by boat or using our trail and a lot of old timers came in from Healey Lake using the portage at Sunset Bay run by Howard Connelly. Howard also delivered propane to everyone at Moon River at that time. Howard used a tractor and trailer to transport fishermen across the portage.
Having the store and gas pump we attracted everyone to check us out. The locals, local cottagers and guests from other resorts. The only phone in the area was another draw. We met most of the cottagers in the first year.
The most dramatic event for us was the storm in which the Edmund Fitzgerald Went down on November 10th, 1975. The water level in the basin dropped 3-4 feet from a strong east wind during the day and 5 feet returned that night with the westerly gales. Water was well above our docks teaching us the need for floating docks.
It took us a couple of years to get the resort up to our standards. We were rewarded by having many repeat clientele. Moon Basin Marina is still operated as a cottage resort.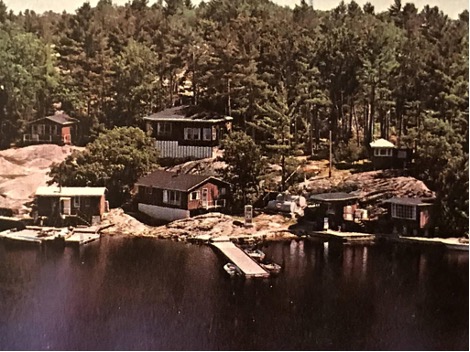 During this time we met many wonderful people who have become long term friends. Every year we return to Woods Bay for Sargeant's annual 24th May Happy Hour.
Some of the highlights of our time at the Moon was Angie winning the1980 Molson's Big Fish contest with a 15lb.10oz. Pickerel. Angie caught a 35lb. Muskie with Arthur Cole. Meeting the Palmes' and sailing the Bahamas with them. Helping celebrate Gilles 45 wedding anniversary at Beckwith Island. Looking after the Hargesheimers at The Farm. Our barge fishing trip with the Sargeants, Dunn's and Marshalls.
On August 3rd, 1983 we left Hargesheimer's dock (The Farm) to start our adventure to the Caribbean.
We live aboard at Parry Sound on our trawler Halagain. We travel Georgian all summer and spend some time at Moon River. You will see us anchored in beside Sargeant's Island.
Moon River will always be a part of us.