594 GEORGIAN BAY WATER (THE DUNNS)
MAP/REFERENCE NUMBER #14 (LINK)
We have been cottaging at Woods Bay since about 1965 originally as frequent guests of the Sargeants. We decided in 1985 that if we ever had a cottage it would be in this area so we bought a vacant lot from Klau and Inge Radtke of Hamilton. Ontario. They had split their property into four pieces and we grabbed ours as soon as we saw it.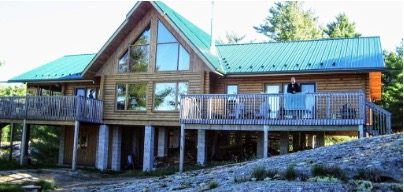 It made no sense to build as long as we worked in Ottawa but when we were both retired we went to work. In the summer of 2000 we rented a nearby cottage from Agnes and Hargus  Hargesher and watched our log cabin being erected. The basic structure (weather tight  shell) was built by Caledon Log Homes. The finishing was done by Ian McCron of Woods Bay fame. He also provided references to a local electrician and plumber both of whom did excellent work. We moved in in May of 2001 and have never looked back.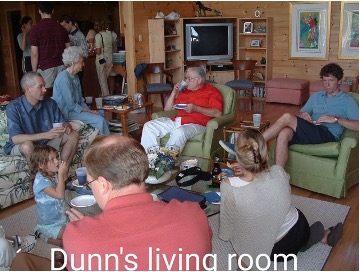 In our twenty years of having our own cottage we have made friends with a large number of people in the area, both cottagers and residents.
Interestingly we were told on buying that the 34 plus acres, which extends to the back of the property about 600 meters, didn't mean much.  The forest adds another dimension to cottaging. We have seen bears, deer, raccoons, otters and  beavers around the large beaver pond in the back forty! There is also a Heron rookery  which is a bit unique. The birds are too many to mention but include eagles, osprey, hawks, geese, ducks, cormorants, loons and of course gulls and terns. Of the reptiles the most impressive is the rattlesnake and we've seen about ten in our time plus many garter and water snakes and innumerable turtles.
On the people side we have enjoyed many visits from our two daughters and their families and many of our other relatives. Several pals have decided to sell their cottages and they have also become regular visitors, a touch of nostalgia for them. As we age we find that water access provides challenges but we aspire to continue spending our summers here for many more years.