THE VILLIGERS
BY BARBARA SARGEANT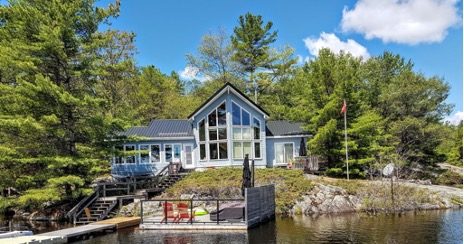 This property is owned by Cadi and her husband Urs Villiger. Cadi went to school with my daughter Heather Sargeant and came up to our cottage many  times through her youth. When she was in her courting days she brought several interesting prospective mates to the cottage for our perusal. When it came time to cottage she wanted to be up here in Georgian Bay. She and her mom looked at several properties and then Jim Dunn suggested that Radke might be interested in selling the seventh lot on their subdivided property. They were nervous because the property is quite near the channel but there weren't a lot of choices so they bought the present location. She and her mom decided on a Viceroy prefab and liked the Invermere design.

Initially they came in through Georges. One day Cadi saw a dirt road on a map and asked Keith about it. He told her that some people on that side of the river came in through Moon River Cottages . Moon River Cottages and Resort is owned by Bill and Ann Mcrobb and is located in Arnolds Bay. There is a 6 kilometre road from Bill's  place to the 12 Mile Bay Road.  Bill maintains the road. Since it made Cadi"s drive quite a bit shorter she started docking with Bill. He looks after their cottage and drives them in if they come up in the winter. He has taken them to the Falls in the winter and the falls were so magnificent to see  with the frozen ice that Urs proposed to Cadi on one of those trips.

Since building the original cottage they have added a wood burning sauna and plan to add a small sleeping bunkie this year.
As luck would have it her children and (my) Barbara Sargeant's grandchild are around the same age so that they are able to play together all the time up here. Double lucky, the Whites have 2 young girls of the same age. Now that everyone can drive boats they are all off and about on the Bay all the time.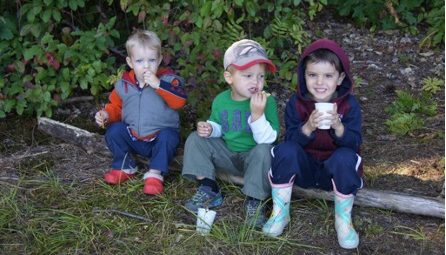 Cadi has a synthetic dock which is currently not well attached to the land because of the high water and she, like most of the Bay, is waiting on workmen to become available.
Their property has access to a large beaver pond which always has otters, beavers and lots of birds They like to canoe back there when the bugs are tolerable.
The family like to get out in their boat and cruise around to the westerns, Hope Island Beckwith Island, Beausolieu and go to Gillies and Craganmours to eat.