MINE ISLAND B62 — (THE FITTONS)
MAP/REFERENCE NUMBER #18 (LINK)
Island B62 is better known to locals as "Mine Island". The name stems from an adventurous person in the 1920's who believed there was copper in the ground and started digging. He might have hit an artesian well, as the hole filled with water and remains at its own level to this day.One can observe where the extracted rock and soil were dumped in a wheel spoke formation around the hole which is about 12 feet deep and the same length across.
The island was owned by a German gentleman who returned to Germany after the war. It remained in his estate and was sold to us, Dana and Ron Fitto, by his three children, residents of Germany, in October 2000.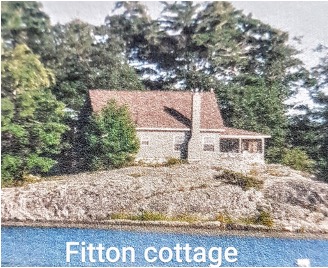 We were searching for a cottage to purchase in the Woods Bay area, as Dana's brother John Gilles and his wife Wendy had recently purchased on Moon Island. The option of purchasing a vacant island and building a new cottage especially appealed, and the deal was finalized quickly.
Within 2 weeks we had designed a cottage and hired local builders, Bart Brown and Don Smith, to complete the framework and exterior finish over the winter. Supplies were delivered to Harvey Arnold's property on the mainland, and then towed by snowmobile and sled over the ice to the building site. We visited regularly on weekends, by walking out on the ice bridge to "supervise" the work.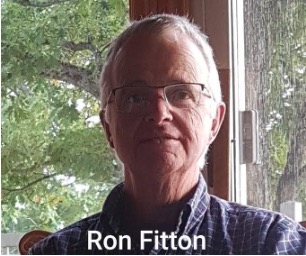 Summer of 2001 was like hard-shell camping–no electricity, no running water. The electric fridge, with no power, served as an ice box with blocks of ice from Sunset Point Marina,(also the location of the much needed pay phone). We soon understood why it took early settlers all day to complete chores, cook meals and clear up afterwards. The most significant experience that summer was the warm welcome by our neighbors, Mike Brigham, Sargeants, Dunns, Clarks and Tilleys in early days with many more introductions to follow.
Over the years we have added electricity, water system, interior finish (well, you know-almost), with front and back screened porches to increase living space.
Docks front and back, were built and expanded to accommodate the increasing assembly of water toys. While in the early years we docked at Woods Bay Marine, (Jim Grisdale was the owner), we switched a few years ago to West View Marina as it is several minutes closer to the Island. Ruth and George Grisdale own and operate this small, top rated marine and cottage rental business. They are always available for a chat and are often the first people we greet on our return to the Bay each spring. Ron was the master builder for all of the work. Dan, Simon, Courtney, later Adam and now Elliot and Etta were the apprentice labor force.
There was never too much work however, that we missed the opportunity for family dance parties, or the rather famous Order of Good cheer party. Invitations (SEE LINK) were delivered by canoe, (only 15 to be historically accurate) guests came in period attire, bringing appropriate food contributions, and prepared to provide entertainment to the group. And imagine, Champlain himself inducted guests into the Order of Good Cheer. (READ SARGEANT TOAST – PDF DOWNLOAD 2 PAGES LINK)
We had never owned a cottage before Mine Island. It continues to be a wonderful experience, now also enjoyed by children and grandchildren we hope for many years.