WOODS BAY LODGE 481 GEORGIAN BAY WATER (THE PHILLIPS)
Map/Reference #24 (LINK)
I grew up cottaging on the Bay in Victoria Harbour, and my husband Gary Phillips had fallen in love with the Bay as a young man. In the 1990's we started boating on the Bay with our three kids, and in 1997 we bought our first cottage on the Bay, located behind Bone Island in Honey Harbour, close to MaCray Bay. We owned it for 4 years and sold it in 2001 as the area was becoming very busy. We knew we wanted to be in an area of the Bay that was less populated and where the wildlife was thriving, and so we started looking for another cottage on the Bay. We had spent many summers exploring the Sans Souci area, and all the way up the shore to the French River and North Channel, and loved the expansive views and energy of the open Bay.
One day, Gary saw a real estate advertisement for Woods Bay Lodge (481 Georgian Bay Water) in a local paper, and was very intrigued as it was close to the Sans Souci area! Very soon afterwards, in October 2002, we rented a water taxi and off we went to see the property. When we arrived with our Realtor, it was cold and grey outside, and the property welcomed us with a spirit of sad abandonment. Outside, there was much debris and it was evident that it had not been cared for for quite some time. When we entered the lodge it was quite the sight – old rodent infested furniture, large and small kitchen appliances (i.e. old fryers full of grease), kitchenware, office equipment and files, piles and piles of old linens, garbage, falling down ceilings, and more. It was a mess. The place had literally been abandoned, but we were young and idealistic and all we saw were possibilities!
On December 11, 2002 we bought the old Woods Bay Lodge – after walking away from it 3x – it was a big purchase for us at that time. The property to the east had recently been severed (the Executive Cottage), and had been purchased a couple of months previously by Al and Marilyn Neilson, along with their daughter and son-in-law. Today, Al and Marilyn still own the cottage.
In the early days we docked at Sunset Point Marina and boated over to the cottage. reg was the owner/operator of the marina and it worked out well for us-staying until it was sold. then we moved over to the Moon river Marina and have continued to park our vehicles and dock our boats there for the past number of years (2006 I believe.)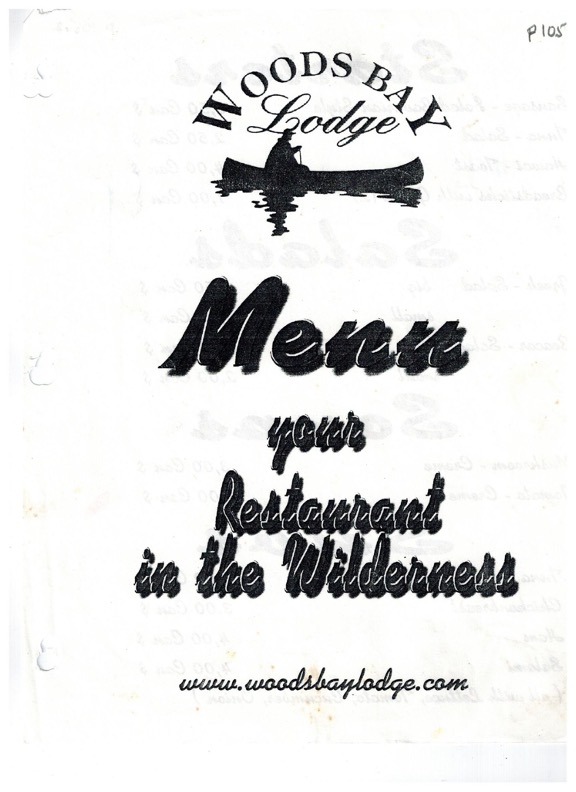 We bought the lodge from the bank as it had gone into receivership, and had been owned by a German holding company. The flight school sign on the dock was still intact, and RESTAURANT was still painted across the roof of the building. For the first couple of years, we had people come by the dock looking for the restaurant, which we were not running. Gary remembers taking our daughter Nikki there for breakfast years before, and staying in the front cottage with a group of friends for a guys fishing weekend when he was in his early 20's. Also we learned that prior to our ownership, the owners had been running a flight school in which pilots from Germany and other European countries, would travel to Woods Bay to obtain their floatplane endorsement. Many local cottagers remember the planes taking off and landing multiple times a day across the Bay, and we would often hear that they were thankful that that was no longer happening, although the restaurant seemed to be missed.
In the spring of 2003, we began the long process of rehabilitating/renovating the lodge. The original building had been a Dion homestead, built in the 1920's I believe, but over the years a number of additions had been added to the structure. Given that most of the additions were in significant disrepair, we decided to remove them. We also decided that we would focus on renovating the interior portion of the lodge that was salvageable. Well…that led to a complete and total overhaul of the building that lasted 4 years. Approximately 1500 sq ft of building was removed from the building, the end Great room was completely removed and rebuilt, and the remainder of the interior of the building was taken down to the floor joists and completely gutted. Over the next four years, Gary and I worked with our Master Carpenter (who lived there full time and with us in the winters), Bob Blanchard – who lovingly became our Uncle Bob – to fully restore the lodge building. It was a labour of love, blood, sweat and tears. Literally.
For years, every weekend Gary and I would arrive at the marina with our kids and for hours unload lumber and building supplies from our trailer onto the boat and take them over to the lodge, only to be unloaded and staged for use. We moved so much lumbar over the years that I became known to some locals as "the Wood Lady." During these years, we stayed in the three bedroom waterfront cottage. During the first summer there, our dear friends Deborah and Craig Melin (who now own Bryan Baeumler's cottage), stayed in the upper two bedroom cottage. Over the years they continued to visit us with their boys, and share in our excitement about the lodge and the area.
For the several years of owning the lodge, we were "weekend warriors," splitting our time between the rebuild and our family and close friends. In 2011 Gary really wanted to meet more of our neighbours and he felt that house concerts would be a great way to connect to the community. We had many community concerts over the years, with award winning artists such as Jason McCoy (Road Hammers), Tom Wilson (Blackie and the Rodeo Kings, Lee Harvey Osmond), Coco Love, Scarlett Jane, and many others performing in our living room. We would also cook a dinner for 60-80 guests, making everything from turkey burgers with blueberry ketchup, deep fried turkey, and even quail. It was a lot of work, taking approximately one week from start to finish, but it was always worth it. The parties we had! In fact, one of my favourite memories (and I still have the video), was of swing dancing in our living room with Tim Sargeant – he really knows how to cut a rug!
The lodge became our favourite place on earth. It is where we have met some of our dearest friends, where we spent some precious times with loved ones, where we celebrated summer birthdays, fall anniversaries, and winter adventures. It is where our youngest daughter Nikki grew up, met lifelong friends, started her Nikki's Cottage Care business, met her fiancé Rob Kennedy (whose family has owned Island B2 in Moon Bay since 1966), became inspired to become a Registered Nurse, and where she developed a deep love for the area, nature and all things outdoors. It is where we watched our middle daughter, Jacqueline be married to Ryan Benn and where they began their married life together. It is also where we healed after life's disappointments, hurdles and mishaps. It was our sanctuary. It was never our intention to run the lodge as a business, as we wanted a cottage and were both engaged in our respective careers in the Barrie area. However, in 2012 we began renting the cottages and running it as a small resort. In 2015 we added two Yurt platforms and erected our first yurt on the property which was such a cool addition to the property. But, running the lodge as a going concern started to change our experience on the Bay as we found ourselves always working to juggle the lodge and our business. In August 2018, we sold the lodge to Eric Hayden, and it continues to be run as a cottage rental business by his nephew, Owen.