44 SUNSET POINT ROAD (THE TILLEY'S)
Reference on Map is # 19 (Link Here)
In 1985 we decided to buy a cottage and went looking. Having had a cruiser for a number of years, we had cruised the Ontario waters and decided Georgian Bay would be an ideal spot to "set up camp."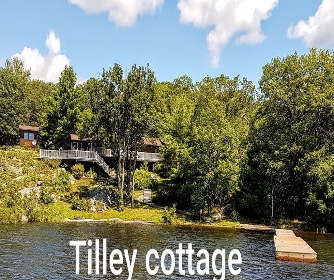 What I am about to write here are recollections from personal conversations, mostly with people concerning the properties around the above address. Some of the people referred to are no longer with us, so you must trust me that what I am writing are my recollections of many verbal discussions.
These discussions were mostly with Lucille Gilles, Marshal Grisdale, Harvey Arnold, Jack Clark and other Grisdales over the years at various cocktail parties, et. Lucille will be 100 years old as I write, and until 2019 had been visiting Woods Bay since she was six months' old, so she was very familiar with the area.
Lucille's Grandfather had been a Judge in Kansas City and apparently was the Judge who sentenced The Bird Man to Alcatraz. Judge Pollock was an avid fisherman and was joined in Kansas City by a Law Clerk from Parry Sound. Realizing what an avid fisherman Lucille's grandfather was, the Law Clerk invited Judge Pollock to some real fishing country around Parry Sound. The fishing was so good there was only one thing to do and the grandfather purchased approximately 25 acres of land at what was to become Sunset Point.
When Lucille got married, the couple decided to spend their honeymoon at Woods Bay. They did the trip the only way to get to Woods Bay in those days was by train to Parry Sound and taxi boat to Woods Bay. The boat trip was made at night.
When they arrived in front of San Souci, the taxi t-boned a canoe and there "was blood and gore everywhere." The new husband was shocked and wondered what he was getting into.
Said property was divided over time into 4 properties. One property was "given" to Harvey Arnold's mother, whom, I believe, was a Grisdale.
The second property was, according to Lucille, "given" to the local School Board by her grandfather, and for years was the "one room schoolhouse" on Woods Bay.  More than once Lucille gold me of the gift from her grandfather to the School Board, and when I bought the former school property from the Grisdales, Lucille told me how upset she had been because she had tried to buy the property when the Township decided to sell it, and was told she could not buy same because she was an "American."
When I brought the "school house" property, it came along with a copy of the transfer of same to the local School Board from Judge Pollock for the princely sum of $300.00
At the next cocktail party, at our house, I gave my copy of the deed to Lucile to read. After perusing the deed, she exclaimed, 'that lying bugger." Only Lucille would make such a statement!
The other 2 properties were subsequently bought by Price Taylor, who was a former fishing guide at ……………. Island camp, turned real estate salesman.
When I decided it was time to buy a cottage property, I stopped by his Real Estate office on Highway 69, which is now 400, and Price took me to a property on the narrows between Woods Bay and Sunset Point. When I told him that I was not interested in said property, he told me that he owned some other properties which he was thinking of selling, and we visited the same. We decided we wanted to buy what was to be No. 44, but Taylor told us his son wanted it. I asked where his son was, and when he told me he was working the Oil Rigs in Alberta, I convinced Price that he son was making so much money on the rigs that he would never come back to Ontario. We bought the property and his son returned the next year.
I ended up buying what was to become 44 Sunset Point Road. This property has an unique geological feature–two "wore holes or potholes," formed during the retreat of the glaciers. They are not uncommon in the Georgian Bay area, but it is uncommon to have holes side by side.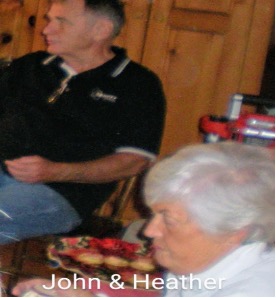 Some time later, I bought what had been the School House property and with it came local information and a couple of obligations.
1. Marshal Grisdale asked me not to cut down the maple tree, which he and his classmates had planted the first year the school opened. The maple tree still stands. It is almost 100 years' old and served as a source of maple sap for years to the Grisdales who bought it from the School Board.
Harvey Arnold asked me not to remove the stone/concrete base that had held the flag pole while school was in session, and that also remains on the lot. This base had been built by the students' fathers.
Eventually, I bought the remaining property which remains an empty lot. This lot has milkweed plants growing on it which are left there to attract the Monarch Butterflies on their migrations north and south each year.
Finally, I thought it interesting to read the description of the School Property when it was "given" to The Public School Board of Section No. 2 of the Township of Conger, in The District of Parry Sound, dated 20th day of April 1922."
It reads as follows:
COMMENCING at a point which is fifty-six feet (56) Westerly from the easterly limit of the said lot measuring at right angles from a point in the said Easterly limit distant twelve (12) chains and seventeen feet (17′) from the South Easterly angle on the said lot; Thence North thirty-five degrees West (N. 35 deg W.) then (10) rods; Thence South fifty-five degrees West (S. 55 deg W) sixteen (16) rods; thence South thirty-five degrees Eat (S. 35 deg E) Ten rods; Thence North fifty five degrees East (N. 55 deg E.) sixteen rods to the point of commencement. (Take that to a graduating Civil Engineer and see if he/she can draw you an accurate layout of the property.)