BLACKSTONE HARBOUR, B39 ML (THE CALHOUNS)
Compiled by Barbara Sargeant. Some from these reference books (Link), and trail book.

Map and Reference Number #23 (Link)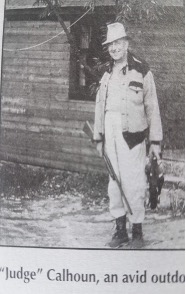 Judge Joseph Calhoun was from Cleveland Ohio. Like most of the Americans who came up here he was an avid outdoorsman. He bought the 600 acre parcel for $1200.00 and built the original hunting lodge with a living room and upstairs lodge in 1939. The lodge was called Willebejobe after his two children William and Betty Jo and his wife Betty Jean. Betty Jo continued to summer at the cottage until 1995 and she died in 1996. William had a daughter Janey who was a good friend of Tim Sargeant when they were young. Bill and Christine Castenette and then the Myers  and then Marie Grisdale were the caretakers for the Island. After the death of his first wife the judge married his secretary Betty. Jerome Canstenette became the next caretaker until he died in 1968 under uncertain circumstances.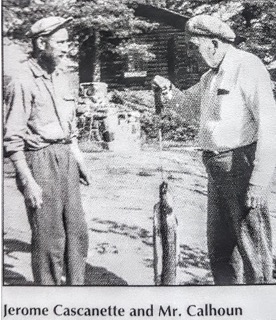 In 1973 Judge Calhoun sold the property to a man from Sarnia who planned to develop the property into a nine hold golf club. He got 23 out of 25 approvals to develop the property and then all of a sudden the government stepped in and expropriated the land for the Massasauga Provincial Park. Since that time the government has allowed the residence to totally deteriorate and now we can't even walk in it. Apparently the Gilles were one of the leading opponents to the development, In my opinion, it would have been so nice to have a golf and social club for the kids and ourselves near us.
For more info on the Calhouns read the note below:
The Calhouns of Blackstone Harbor
Standing vacant on the hillside overlooking Blackstone Harbor, the old Calhoun Lodge is a reminder of an era gone by. The original owner, Judge Joseph Calhoun, was from Cleveland, Ohio. According to his daughter, Betty Jo, the Judge was an avid outdoorsman who loved to hunt and fish in the wilds of Canada. When he met a streetcar conductor in Cleveland who was eager to sell his 600 acre parcel in Georgian Bay for only $1,200, the Judge jumped at the opportunity. In 1939, he built a hunting lodge on the property that he named "Willebejobe" after his two children, William and Betty Jo and his wife, Betty Dean. The original log cabin included a main room with a sleeping loft. Two screened porches were added later as summer projects. The main cabin was built of pine logs from around the area. They were treated with creosote to deter insects and sealed with horsehair chinking.
Betty Jo remembers vividly her first visit to Willebejobe with her mother and father to see the new hunting cabin. "The next year, Dad took Mother and me to see it. He thought Mother, being a city girl, would not like it. Wrong! For the next sixteen summers, we spent four months at Willebejobe on Blackstone Harbor."
 "It was a wonderful life- one which forced us to develop imagination, self-reliance and faith. I learned to be a mechanic, a gardener, a boat builder, navigator, and a cook. Those years were special as were the friends we made. The wars, both World War Il and the Korean War seemed so far away."
 The Judge, as my grandmother called him, was an imposing man with great bushy eyebrows and white hair. According to his daughter, Judge Calhoun was a suave and handsome young attorney. In his youth, he was busily establishing his law practice. He was appointed judge of the District Court of Cleveland Heights for twenty-four years.
"Dad was getting started in his law practice and was an aspiring politician (fortunately, that was a bust.). As a family man, he left a lot to be desired. Since my brother was twelve years older than I, his growing up years were tough. In 1929, I came along with the Crash of '29. Dad seemed to be elsewhere other than home much of the time. Mother was our stability."
About her mother, Betty Jo exclaimed, "What a gal she was! She was a willing participant in almost everything we did. Somehow, she was unflappable. My generation held her in great esteem. She spent most of her life with children, especially at Rainbow I Hospital where she ministered to the handicapped kids "
Mother also loved her garden, especially her geraniums and tuberous begonias which always filled our porch. She loved color. We called her 'Rasputin of the paint pots' because every deck chair outside was painted a different color."
 Despite her illness, Mrs. Calhoun was able to spend her last summer at her beloved Willebejobe with all her family in 1955. When she died the following year, a light went out in the lodge window. As Betty Jo so aptly stated, "The magic of Willebejobe diminished… in truth, disappeared."

The cast of caretakers at Calhoun's Lodge was as diverse and interesting as its owners. Betty Jo recalled that Bill Cascanette and his wife Christine, were one of their earliest caretakers. "Bill had worked in a logging camp where he learned to cook. His wife was crazy like a loon; she drank but could she cook!"
When Allie Myers and his bride, Kay, returned to the Bay after World War II, Allie became the caretaker and Kay became our cook." According to Betty Jo, she was an absolute disaster! Allie built the caretakers home on the Calhoun property for his new bride and baby daughter. Allie drowned in a tragic hunting accident in Pine Lake just months after the birth of his baby daughter, Sandra.
In 1948, the Calhouns hired Marie Grisdale as their cook and housekeeper. Marie, the oldest of the Grisdales, was a hardworking little woman not five feet tall.
"Marie made the best homemade bread ever!" exclaimed Betty Jo. She worked for the Calhouns until Mrs. Calhoun died in 1956. When the Judge remarried his secretary, another Betty, she assumed the cooking.
Jerome Cascanette, their next caretaker, was a boat builder, trapper and guide. He liked to play the fiddle and was known to 'tip a few". In May, 1968, dressed in his Sunday best, Jerome, along with a bottle of the Judge's finest scotch, went to the maintenance shed, turned on the tractor, laid down on the work bench and was asphyxiated by the fumes. His body was found the following day when the Judge arrived from Cleveland. Rumor had it that he died of a broken heart from a failed romance.
In 1973, Judge Calhoun, now 80,was in failing health. Knowing that neither of his adult children nor his second wife could maintain Willebejobe, he sold the property to a man from Sarnia who planned to develop Blackstone Harbor. Thanks to some proactive residents in the area and the provincial government, Calhouns property was purchased by imminent domain in 1973. Since that time, the Calhoun Lodge has been the cornerstone of Massassauga Provincial Park in Blackstone Harbor.
 Betty Jo Calhoun moved east in 1960 to become the dean of an independent girls school in Worchester, Massachusetts. She retired to Cedar Mill Farm in Middlebury, Vermont. As she had done all of her life, she continued to love the out-of-doors and her loyal four footed companions which where her trademark as a young woman.
 As a final note, Betty Jo reflected, "Those years on Blackstone Harbor were very precious to me. My memories of life in Canada are vivid to this day. I learned more up there than I ever did in book learning. The caretakers, many of whom were part Indian, were great teachers! At the age of 73, I'm proud to say that I can still split a log with a single hit!"
 Betty Jo Calhoun died January 31, 2004 after a long battle with cancer.