GARBAGE
Compiled by Barbara Sargeant
Garbage has always been a problem and in the very early days there was no official garbage dump.
As a very good citizen back then, Mrs. Sargeant would take the lids off all the tins, boil them and then sink them in the lake. All the 'bad' people just dumped them in the back forty acres on their property. Large appliances were usually dumped in the Bay or buried.
Fortunately a large Finnish family, Olie and Kirstie and Olyna owned a  lodge down at Sunset Point. They had a big sauna on their property.  They had several large sons and they would come up and help people move their furniture and appliances and recycle them for their cottages.
Eventually the government put a dump for the Bay right behind Mrs. Sargeant's cottage. Mrs Sargeant, who was quite formidable, campaigned vigorously to have the dump closed because it smelled.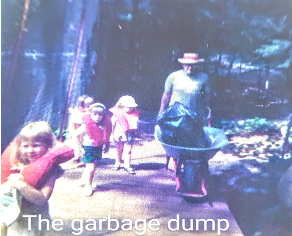 The government then opened a dump along from and across from Francis Island where the Pierces lived. The islanders would all take their kids along on the trip to the dump as it was a great place to view bears. Apparently the sewage leached down into the lake and it became necessary to close the dump.
For a while we would then take our garbage to the Healey Lake dump but shortly a new dump was opened in its present location beside the Moon River Marina. At first you could take any kind of garbage to the new dump but in 2008 the government began to put in all kinds of restrictions. In 2010  the dump was fenced in and you could only dump at times when an attendant was there.

After we moved to the present cottage, the dump was full of coons as the Sargeants for 3 years in a row tried to live trap their coons and let them go at the dump. ( for three years they put over 33 coons per year in the dump).
When you would open the door to the bins the bins would be loaded with coons which presumably were transported around the province. Obviously, this is not a a good idea anymore.

Despite my initial misgivings I believe the current dump is one of the great successes of the government. We particularly like "the mall" and I have collected and donated many fine things to it. Rod is the man who runs our dump so well. One year we tried to set up a bottle disposal at the dump with the proceeds going to help finance the fire boat but the plan did not work as poor Rod had to spend his whole time sorting the incredible number of bottles left there.